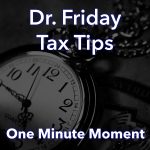 Dr. Friday 0:00
Good day. I'm Dr. Friday, president of Dr. Friday Tax and Financial Firm. To get more info, go to www.drfriday.com. This is a one minute moment.
I think this is kind of one of those best-kept secrets when it comes to taxes. Did you know that you could rent out your primary home for whatever dollar amount you want for two weeks a year and not pay $1 in tax? I had a client that basically rented his house out for a movie set and he was paid about $14,000 a day for seven days. And that was all tax-free money. Now that may not happen for all of us, but sometimes there are events that come into town and things like that. It's something to consider.
It's a way of putting tax-free money in your bank account. And it's a great way to have some fun. (615) 367 0819.
Announcer 0:52
You can catch the Doctor Friday Call-in Show live every Saturday afternoon from 2 pm to 3 pm right here on 99.7 WTN.7 WTN.