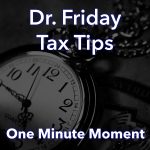 Dr. Friday 0:00
Good day. I'm Dr. Friday, president of Dr. Friday Tax and Financial Firm. To get more info go to www.drfriday.com. This is a one minute moment.
Dr. Friday 0:13
You know many times we listen to things that people say and one of the things going around town right now is forming a business just to hold your income and assets will avoid taxes. A family estate trust will allow you to reduce or eliminate your tax liabilities. Well, if you believe that I've got a bridge in Arizona, that is not true. Although there are ways to help transfer funds or money to the next generations and lower tax brackets. Trying to avoid or hide your assets in a trust is not going to save you anything. Make sure you get the right advice. It's not going to cost you a lot of money. Call me at 615-367-0819.
Announcer 0:52
You can catch the Dr. Friday call-in show live every Saturday afternoon from 2 pm to 3 pm right here on 99.7 WTN.