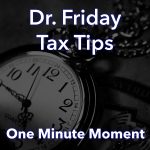 Dr. Friday
Good day. I'm Dr. Friday, president of Dr. Friday Tax and Financial Firm. To get more info go to www.drfriday.com. This is a one minute moment.
Can grandparents get a tax deduction for contributing to a 529 plan? Yes, grandparents can claim the deduction for contributing to a 529 plan if they live in one of 34 states that offer a state income tax deduction for 529 plan. I will let you know Tennessee is not one of those states. So it's still a great thing to help save for your grandkid's graduation or college education. But the fact is, it's not going to be a tax deduction on your federal tax return. And since we really don't have a state income tax, then we're not going to get much advantage.
So if you have questions (615) 367-0819.
Announcer
You can catch the Doctor Friday Call-in Show live every Saturday afternoon from 2pm to 3pm right here on 99.7 WTN.