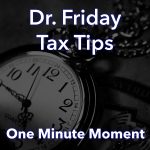 In this one-minute moment, Dr. Friday delves into the often-confusing topic of claiming dependents on your taxes. Is there an age limit to claim your child as a dependent? What's the difference between the child test and the qualified relative test? Dr. Friday clarifies these terms and provides insight into the government's perspective on dependents. Whether your child is 24 or older, understanding their status is crucial for your tax filings. Tune in to get the clarity you need.
Transcript
G'day, I'm Dr. Friday, president of Dr. Friday's tax and financial firm. To get more info, go to www.drfriday.com. This is a one minute moment.
Is there an age limit on claiming my child as a dependent? To claim your child as a dependent, your child must either qualify as a child test or qualified relative test. This is often where people get confused. A lot of times people will turn around and say, "Well, I can't claim my child over the age of 24." No, they're no longer a child. They are now considered by the government as a relative. I know, it's just the terminology, but it doesn't make a difference. If you are providing more than 50% of their support and they are not making more than $12,000 a year, then they are or can be possibly your dependent. If you need more help or if you need a separate appointment, go to drfriday.com.
You can catch the Dr. Friday call and show live every Saturday afternoon from 2 to 3 right here on 99.7 WTN.