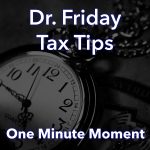 Dr. Friday 0:00
Good day. I'm Dr. Friday, president of Dr. Friday Tax and Financial Firm. To get more info go to www.drfriday.com. This is a one-minute moment.
Dr. Friday 0:12
Discharged student loan debts. For the years 2018 through 2025, student loan debt that is discharged due to the total and permanent disability or death of a student is totally excludable from income. Very important to understand because sometimes what's going to happen is you're going to get a 1099 C, and then they're going to turn that so you got discharged but now it's income to you. The same thing can happen when people get credit cards discharged from their credit. It's important to understand that even though they're giving you a break on one side, they are going to make you pay taxes on the other side and the last person you want as a loan officer is the internal revenue service.
Announcer 0:52
You can catch the Dr. Friday call-in show live every Saturday afternoon from 2 pm to 3 pm right here on 99.7 WTN.