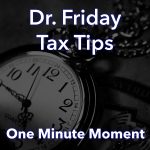 Dr. Friday 0:00
Good day. I'm Dr. Friday, President of Dr. Friday's Tax and Financial firm. To get more info go to www.drfriday.com. This is a one-minute moment.
Dr. Friday 0:12
Student loan interest. This can be a tricky thing because a lot of times, parents have actually gotten the loans for the kids because they wanted to help them out. But the parent's income is too high to truly qualify for the $2,500 interest that you can deduct from your student loan. Did you know you could gift that money to your child, and they can deduct it from their tax returns? This may be a little loophole that you haven't maximized. We don't want to leave any money on the table. So if you're not sure if you're maximizing your taxes, you need to call me, Dr. Friday at 615-367-0819.
Announcer 0:51
You can catch the Dr. Friday call-in show live every Saturday afternoon from 2 pm to 3 pm on 99.7 WTN.