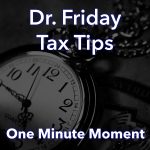 Dr. Friday 0:00
Good day. I'm Dr. Friday, President of Dr. Friday's Tax and Financial firm. To get more info go to www.drfriday.com. This is a one-minute moment.
Dr. Friday 0:12
We are wanting to try to find ways for you to be able to save tax dollars. But also keep in mind, sometimes people work so hard to find every single tax deduction that they kind of bite themselves because they're not able to go and borrow money. I had a situation recently where someone legally was deducting and taking everything they needed to take off on their tax return. But by doing it because they were a small home based business that the loan or the lending office was saying, "Hey, we we don't see where you make any money, how are you surviving?" So you need to make sure that you're also looking at the big picture if you need help, call me at 615-367-0819.
Announcer 0:51
You can catch the Dr. Friday call-in show live every Saturday afternoon from 2 pm to 3 pm on 99.7 WTN.