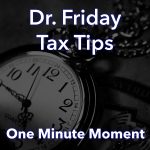 Dr. Friday 0:00
Good day. I'm Dr. Friday, president of Dr. Friday Tax and Financial Firm. To get more info go, to www.drfriday.com. This is a one minute moment.
I'm an enrolled agent licensed with the Internal Revenue Service to do taxes and representation. Which basically means if you're having problems with the IRS, maybe you have friends or children that haven't done everything they need to do, maybe they have liens or levies against their property, and you're trying to figure out how do I ever get out from all of this? It just seems like it just keeps piling up and piling up. Believe me, there is a plan. Not always one that you're going to love, but there is a way of getting out if you're willing to fight for your freedom.
So hey, you need to give me a call at 615-367-0819. When you get started on the process so we can start building forward and rebuilding your financial futures.
Announcer 0:52
You can catch the Dr. Friday Call-In Show live every Saturday afternoon from 2 pm to 3 pm right here on 99.7 WTN.