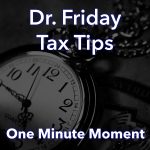 Dr. Friday 0:00
Good day. I'm Dr. Friday, president of Dr. Friday Tax and Financial Firm. To get more info go to DrFriday.com. This is a one-minute moment.
Dr. Friday 0:12
Do you support your parent? Do they maybe live in your house or live in a care facility in which you basically help support them? Remember there is a tax deduction. This is going to be the tricky part though because many of them claimed or have never been claimed and they received stimulus money. But now that there is no more stimulus, remember that that person could be a qualified deduction for you and it could put $500 back on your tax return. So if you are supporting an older sibling or parents, somebody that is not supporting themselves, and you have them as your dependent, you could get up to $500 on your tax return.
Announcer 0:51
You can catch the Dr. Friday call-in show live every Saturday afternoon from 2 pm to 3 pm right here on 99.7 WTN.