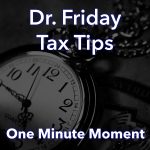 Dr. Friday 0:00
Good day. I'm Dr. Friday, president of Dr. Friday Tax and Financial Firm. To get more info go to www.drfriday.com. This is a one-minute moment.
Dr. Friday 0:12
And it's time to really start thinking. We've made it through the Thanksgiving time. Time to start thinking about taxes. We're down to almost the last 30 days? Are you going to be doing a Roth conversion? Are you going to be buying some sort of a piece of equipment that you're going to use to help pay down? You know, because we can do a section 179 these are the times you want to do it. You don't want to wait to the very last day the very last hour because the IRS could say, "Was it really put into service at that time?" So make sure you've given enough time so you don't have to worry about losing a tax deduction. Taxes is what I love and if you need help, give me a call 615-367-0819
Announcer 0:51
You can catch the Dr. Friday call-in show live every Saturday afternoon from 2 pm to 3 pm right here on 99.7 WTN.