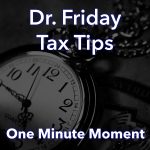 Dr. Friday 0:00
Good day. I'm Dr. Friday, president of Dr. Friday Tax and Financial Firm. To get more info, go to www.drfriday.com. This is a one minute moment.
Children under the age of 18 working for mom and dad in their business. Partnership? Sole proprietorship? Awesome idea, people! Why not have kids work, learn that they're going to have to work, put some of that money into either an IRA, teach them how much money actually are they going to come home with? And guess what, there are some wonderful tax advantages. Do not withhold Social Security or Medicare tax kids if it's under 6000 or even 12. If you did contribute five to an IRA may not be taxable.
You need to find out how to put more money in your pocket by calling me at (615) 367 0819.
Announcer 0:52
You can catch the Doctor Friday Call-in Show live every Saturday afternoon from 2pm to 3pm right here on 99.7 WTN.