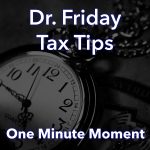 Announcer 0:00
Good day. I'm Dr. Friday president of Dr. Friday's tax and financial firm. To get more info go to www.drfriday.com. This is a one minute moment.
Dr. Friday 0:12
We're getting closer to the end of January. That means more and more of your forms are coming in. I can't repeat enough that you need to make sure you've received everything this year. Don't forget about unemployment. Don't forget about any other kind of payments, even grants that you might have received. Maybe you got a refund on your 529 plan or 1099 Q's. If you have something like that, don't forget to report it. It's gonna come back on you and you need to make sure when you do your taxes this year, you're reporting all of your income so you don't get caught later with a love letter from Uncle Sam. You want to make sure you're on top of it. If you need help with your taxes, call 615-367-0819.
Announcer 0:52
You can catch the Dr. Friday call-in show live every Saturday afternoon from 2 pm to 3 pm right here on 99.7 WTN.