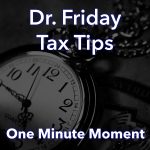 Dr. Friday 0:00
Good day. I'm Dr. Friday, president of Dr. Friday Tax and Financial Firm. To get more info go to DrFriday.com. This is a one-minute moment.
Dr. Friday 0:12
If you have capital gains or dividend income and have investment interest expense, you may want to consider calculating the break-even point so you can optimize both the capital gains or dividends tax rates and the investment interest deduction. This is the kind of thing you need to be doing now before the end of the year. You can't really make these changes, guys, after the end of the year. Now you're in a new year. So now's the time to start thinking about your 2021 taxes and how and where you might be able to find ways of reducing your taxes or making sure you're maximizing all deductions. If you need help. Call me at 615-367-0819.
Announcer 0:51
You can catch the Dr. Friday call-in show live every Saturday afternoon from 2 pm to 3 pm right here on 99.7 WTN.