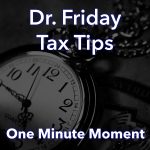 Dr. Friday 0:00
Good day. I'm Dr. Friday, president of Dr. Friday Tax and Financial Firm. To get more info, go to www.drfriday.com. This is a one minute moment.
Tax changes that came into effect in December 2017 are limited for individuals. So keep in mind, if these tax changes are helping you which, for most of us, there are some advantages other than not paying as much in taxes. You might want to reconsider how or what you're doing when it comes to the way you're formatting your income. You've only got till 2025 and those tax deductions are going to change. So instead of paying 12%, you'll be back up to 15%. Instead of paying 22%, you're going to be back up to 25 and so on. So it's important to understand we've got a short window here to maybe maximize some tax savings and help you put more money in your pocket.
Call me at (615) 367 0819.
Announcer 0:52
You can catch the Doctor Friday Call-in Show live every Saturday afternoon from 2 pm to 3 pm right here on 99.7 WTN.