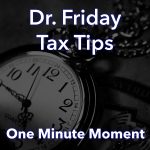 Dr. Friday 0:00
Good day. I'm Dr. Friday, President of Dr. Friday's Tax and Financial firm. To get more info go to www.drfriday.com. This is a one-minute moment.
Dr. Friday 0:12
A charitable contribution is a big thing. And nowadays, people are having a harder time trying to meet those exclusions. I have found that many people are great, and I will tell you I have awesome clients who are very good about giving. But when saying that, giving a car can be a little bit tricky. Because unless the charity sells that car, the only exclusion that you can write off is $500. So if you have a charitable deduction like a car, and they are not going to sell it, maybe they're going to use it or donate to someone else. Remember that that car's value may be less than what you think the blue book value is. If you need help with your taxes, call me at 615-367-0819.
Announcer 0:51
You can catch the Dr. Friday call-in show live every Saturday afternoon from 2 pm to 3 pm on 99.7 WTN.