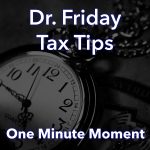 Dr. Friday 0:00
Good day. I'm Dr. Friday, president of Dr. Friday Tax and Financial Firm. To get more info go to www.drfriday.com. This is a one-minute moment.
Dr. Friday 0:12
For all those that are taking Required Minimum Distributions. So this could be individuals that are 70 and a half or older. Depending on when you have it. Remember, there is a one really cool thing you can do. It's called a Qualified Charitable Deduction, you can theoretically take up to $100,000 dollar for dollar deduction and give it to a Qualified Charitable Deduction, which means that if you want to give out you know if you have to take out $10,000 And you want to give that all to your church for this year's tithing, you won't have to pay tax on that. RMD there are many ways that you can save tax dollars. If you need help, give me a call at 615-367-0819.
Announcer 0:52
You can catch the Dr. Friday call-in show live every Saturday afternoon from 2 pm to 3 pm right here on 99.7 WTN.