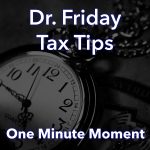 Dr. Friday
Good day. I'm Dr. Friday, president of Dr. Friday Tax and Financial Firm. To get more info go to www.drfriday.com. This is a one minute moment.
Should I take a standard deduction or itemize? You know, I always find it so fascinating that people really, really, really want to itemize. Itemizing in itself means that you have a lot of debt because the biggest thing we can itemize in most cases is mortgage interest. Now there are obviously charitable contributions, which I have many clients that do give a lot of money. Itemizing only wins when you're doing it, but the fact is, the standard deduction right now keeps going up. So we got $12,200, $24,400 in the 2019 tax year. So if you can't itemize, don't worry. Just make sure you pay your debts.
Call me if you have questions.
Announcer
You can catch the Doctor Friday Call-in Show live every Saturday afternoon from two to 3pm right here on 99.7 WTN.