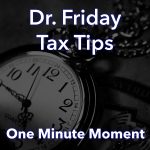 Dr. Friday 0:00
Good day. I'm Dr. Friday. President of the Dr. Friday Tax and Financial firm. To get more info go to www.drfriday.com. This is a one-minute moment.
Dr. Friday 0:12
For all of you that have 1065, 1120, 1120 S's. Remember, tax deadline is March 15. That is coming up very, very fast. And if you don't already have an appointment, you either need to file an extension, or you're going to need to make sure there's someone that can prepare those tax forms for you. Those aren't easy forms and in most cases, that's where I find the most mistakes is in separate entity type forms. Because sometimes people just aren't sure exactly what they're completing. So if you've got one of those entities and you need help or a franchise exercise, you need to call our office today at 615-367-0819.
Announcer 0:51
You can catch the Dr. Friday call-in show live every Saturday afternoon from 2 pm to 3 pm right here on 99.7 WTN.