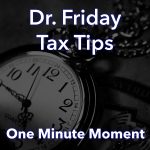 In this one-minute moment with Dr. Friday, discover a unique tax tip that could put extra money in your pocket. Ever thought about renting out your primary home for two weeks? Not only can this provide a financial boost, but it's also tax-free! Dive into this episode to learn more about this little-known strategy and hear how others have benefited from it.
Transcript
G'day, I'm Dr. Friday, president of Dr. Friday's tax and financial firm. To get more info go to www.drfriday.com. This is a one-minute moment.
Looking for a way to put a little money in your pocket, possibly? Think about taking your home, renting it out for two weeks, whatever you might give for it, guess what? That is tax free money. We can all rent out our primary homes for two weeks a year and you don't even have to report it on your tax return. It is free money to you and that is a great way to actually consider. I know I have some friends sometimes that do house exchange and I also have some friends up in Kentucky that during the Derby used to rent it out all the time. So they would actually have two weeks of free money. Think about it, another way that you can put money in your pocket no matter what, 615-367-0819.
You can catch the Dr. Friday Call-In Show live every Saturday afternoon from two to three p.m. right here on 99.7 WTN.