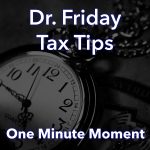 Dr. Friday 0:00
Good day. I'm Dr. Friday, president of Dr. Friday Tax and Financial Firm. To get more info go to DrFriday.com. This is a one-minute moment.
Dr. Friday 0:12
We are starting to prepare for the 2021 tax year. And remember we still have the same tax rates which basically is 10% all the way up to 37%. And the tax rates can be a matter of if you're single, married, or filing jointly or filing separately as far as married or head of household so make sure you understand your tax bracket. And remember we're in a progressive tax code so it doesn't mean $1 over we jump immediately to the next tax rate. No, it goes up progressively. So if you need help trying to estimate or figure out, is this a time to sell something or buy something? Give me a call at 615-367-0819.
Announcer 0:51
You can catch the Dr. Friday call-in show live every Saturday afternoon from 2 pm to 3 pm right here on 99.7 WTN.