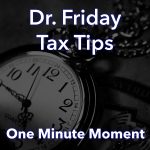 Announcer 0:00
Good day. I'm Dr. Friday president of Dr. Friday's tax and financial firm. To get more info go to www. Dr. friday.com. This is a one minute moment.
Dr. Friday 0:12
We are getting close to having to file our 1099. Remember, this year's big change is that the NEC is back. So not only do we have the 1099 MISC but we have a 1099 NEC for any payments made to someone who is not your employee. If you made any kind of services like trades or businesses, government agencies that's going to be on the NEC. If you make payments to individuals partnerships or estates, that's going to be any payments you made of at least $600 throughout the year to any other individual. If you need help understanding that or filing your 1099 call my office today at 615-367-0819.
Announcer 0:52
You can catch the Dr. Friday call-in show live every Saturday afternoon from 2 pm to 3 pm right here on 99.7 WTN.