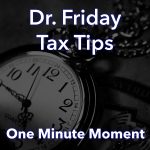 Dr. Friday
Good day. I'm Dr. Friday, president of Dr. Friday Tax and Financial Firm. To get more info go to www.drfriday.com. This is a one minute moment.
Today, October 15 2019 is tax day. If you haven't filed your personal tax return at this point, it's going to be late if you don't hit it by midnight. So now's the time to hit the send button. If you did not file an extension, you're late already. But if you did have an extension, today is the day to hit the send button. Start dealing with your taxes on time. In that way then there's no major penalties. It's very important to make sure you file your taxes on time because that can save you quite a bit of money just in the penalty and interest department.
So if you've got questions, call me (615) 367-0819 or check me out on the web at www.drfriday.com.
Announcer
You can catch the Doctor Friday Call-in Show live every Saturday afternoon from 2pm to 3pm right here on 99.7 WTN.