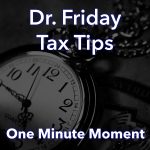 Dr. Friday 0:00
Good day. I'm Dr. Friday, president of Dr. Friday Tax and Financial Firm. To get more info go to DrFriday.com. This is a one-minute moment.
Dr. Friday 0:12
Taxes and divorce, talk about a bad day. All we have to do is talk about those subjects. But sometimes we need to really talk about those. If you're in the process or maybe by the end of this year, you will be legally divorced, keep in mind that means that you're going from married filing jointly on most returns to single. So if you've had your withholding on your paycheck coming out as married, and now you're single, you're going to be short on paying taxes. Take a look now, prepare now. Don't be waiting until that tax return is prepared and then you're like, "Oh my gosh, I owe taxes. I've never had to deal with that before." If you need help, call 615-367-0819
Announcer 0:51
You can catch the Dr. Friday call-in show live every Saturday afternoon from 2 pm to 3 pm right here on 99.7 WTN.