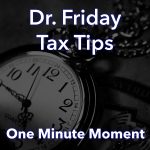 Dr. Friday 0:00
Good day. I'm Dr. Friday, president of Dr. Friday Tax and Financial Firm. To get more info go to www.drfriday.com. This is a one-minute moment.
Dr. Friday 0:12
If you were in an installment agreement prior to the whole COVID and you haven't been able to get it to reset up, make sure that you have all the tax returns that you were supposed to have filed. They're rejecting a lot of them because they're saying people are not in compliance. I found one that was actually nothing to do with their taxes, but she had some back 941 and 940 situations that we have to deal with. So that way she was still out of compliance because she'd hadn't filed all the forms actually hadn't closed the business properly to handle that. So if you're not sure why you're not able to set up your payment plan or you just need help getting dealing with the IRS, I'm your girl 615-367-0819.
Announcer 0:51
You can catch the Dr. Friday call-in show live every Saturday afternoon from 2 pm to 3 pm right here on 99.7 WTN.