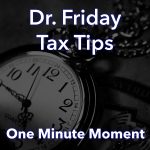 Dr. Friday 0:00
Good day. I'm Dr. Friday, President of Dr. Friday's Tax and Financial firm. To get more info go to www.drfriday.com. This is a one-minute moment.
Dr. Friday 0:12
For many of you, you're still sitting out there saying I haven't got my refund for 2020. I'm still dealing with 2021. Do I file a 2022 tax return? Or do I have to wait for the IRS to resolve my earlier issues before otherwise, they might take my refund. So keep in mind first thing would be to find out the status of those accounts, and I know it's gonna be I can't reach anyone. So how do I do that? There are ways the second thing you want to do is file an extension up until October to give yourself time to make sure those first two years are as close as you can to resolution. Call me if you need help, 615-367-0819
Announcer 0:51
You can catch the Dr. Friday call-in show live every Saturday afternoon from 2 pm to 3 pm on 99.7 WTN.