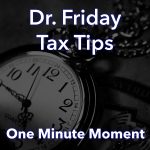 Dr. Friday 0:00
Good day. I'm Dr. Friday, president of Dr. Friday Tax and Financial Firm. To get more info go to DrFriday.com. This is a one-minute moment.
Dr. Friday 0:12
Employers that claim the Work Opportunity Tax Credit get welcoming ease because they've now extended it to November 8 to file for the requested work. Remember, this is a tax extension through Congress. And basically this is for people that may be kept people on, had a hardship and maybe you got PPP one and PPP two. You might even get some EDIL, but you will also qualify up to like $16,000 an employee. It's huge. So if you're an employer that has employees that work through the COVID time and you're not sure if you've taken advantage of this you need to call our firm at 615-367-0819.
Announcer 0:51
You can catch the Dr. Friday call-in show live every Saturday afternoon from 2 pm to 3 pm right here on 99.7 WTN.