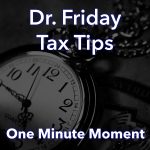 Dr. Friday 0:00
Good day. I'm Dr. Friday, president of Dr. Friday Tax and Financial Firm. To get more info, go to www.drfriday.com. This is a one minute moment.
Non-profits, remember you also have to file tax return 990 or 990 postcard or 990 EZ and they need to be filed on time. Otherwise, there are huge penalties for failure to file your tax returns. So make sure that whoever is in charge of doing your bookkeeping or taxes, they are filing those returns. Remember, if you don't file for three years in a row, you could actually lose your non-profit status. important to make sure you stay in compliance.
If you need help filing your 990 or 990 postcards, whatever it might be. Give us a call at 615-367-0819 or go to drfriday.com and click on appointments.
Announcer 0:52
You can catch the Dr. Friday Call-In Show live every Saturday afternoon from 2 pm to 3 pm right here on 99.7 WTN.