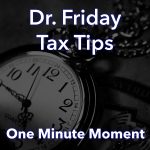 Dr. Friday 0:00
Good day. I'm Dr. Friday, president of Dr. Friday Tax and Financial Firm. To get more info, go to www.drfriday.com. This is a one minute moment.
And here's a question I'm asked probably weekly. Is there an age limit in claiming my child as a dependent? And the answer is no. What it comes down to is, it's going to be a dependent, which a true dependent in my opinion, is 17 or under where you get $2,000. The other one is considered a family deduction, and it's $500 if they're over the age, well, 17 and older. So at that point, they're becoming more independent and therefore maybe they don't need 100% support. But then there's a support test. So you need to make sure you're tracking some of the information but if they're in college, most likely, they're still you're dependent.
Give me a call at 615-367-0819.
Announcer 0:51
You can catch the Dr. Friday Call-In Show live every Saturday afternoon from 2 pm to 3 pm right here on 99.7 WTN.