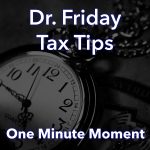 Dr. Friday 0:00
Good day. I'm Dr. Friday, president of Dr. Friday Tax and Financial Firm. To get more info go to www.dr friday.com. This is a one minute moment.
Some changes are coming in on the 1040 for the 2019 year based on the draft that we've seen. This includes a line for capital gain and losses on the front form, whittling down the six attachments, you know, 1-6 down to three separate pensions and annuities from IRA distributions, which right now all fall on a combined number and eliminating the full-year health coverage box which, of course, doesn't have the mandate any longer. Alimony reporting, alimony income will fall on schedule one. There's going to be some changes people and you need to stay on top of them otherwise you can either miss a tax deduction or miss file your taxes.
If you need help, go to my website drfriday.com and make an appointment today.
Announcer 0:54
You can catch the Dr. Friday Call-In Show live every Saturday afternoon from 2 pm to 3 pm right here on 99.7 WTN.