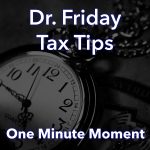 Dr. Friday 0:00
Good day. I'm Dr. Friday, president of Dr. Friday Tax and Financial Firm. To get more info go to www.dr friday.com. This is a one minute moment.
Seniors age 65 and older are getting a new tax return to fill out. It's called 1040-SR. IRS has released the draft of for 2019. It has the same items and schedules as the regular 1040 but includes a larger print tax and other alterations for the aging eyes. One helpful inclusion is a standard deduction chart that prints on the form so seniors won't have to hit or hunt down the instructions on how to fill that box out. It's not a mandated form. In fact, I would say very few seniors will probably use it unless your handwriting your taxes.
Give me a call if you need help at 615-367-0819.
Announcer 0:52
You can catch the Dr. Friday Call-In Show live every Saturday afternoon from 2 pm to 3 pm right here on 99.7 WTN.