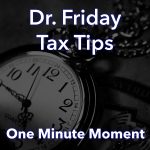 Dr. Friday 0:00
Good day. I'm Dr. Friday, president of Dr. Friday Tax and Financial Firm. To get more info go to www.dr friday.com. This is a one minute moment.
Making major renovations to your home to support an in-home business, you may be able to take depreciation deductions. In 2008, a couple expanded their existing residence by adding one more bedroom and bathroom than later constructed a foster care agency out of that for adult living the foster center stayed in those two bedrooms and they were able to use that as a depreciated asset. Keep in mind no matter what you do in your home when you sell it, you have an exclusion, but if you depreciate it, you will still have to recapture that depreciation. So make sure you understand how taxes are going to affect you otherwise you can lose some money.
Announcer 0:54
You can catch the Dr. Friday Call-In Show live every Saturday afternoon from 2 pm to 3 pm right here on 99.7 WTN.