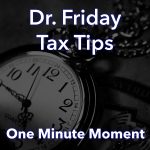 Dr. Friday 0:00
Good day! I'm Dr. Friday, president of Dr. Friday Tax and Financial Firm. To get more info go to www.drfriday.com. This is a one minute moment.
Relying on a preparer to file an extension isn't enough to escape a penalty. So in many cases, in our case, especially I guess as a preparer, we have a tendency to go ahead and file extensions for many of our clients knowing that they're either going to file an extension or need assistance doing that. But the law basically says you can't rely on me remembering to file your extension. You need to make sure you're contacting your preparer and getting verification that the extension was filed. Them not filing it isn't going to be a problem for them, but it's going to be a problem for you. So you need to make sure your extensions are filed on time.
Announcer 0:52 
You can catch the Dr. Friday Call-In Show live every Saturday afternoon from 2 pm to 3 pm right here on 99.7 WTN.