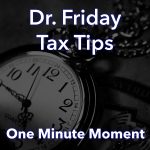 Dr. Friday 0:00
Good day! I'm Dr. Friday, president of Dr. Friday Tax and Financial Firm. To get more info go to www.drfriday.com. This is a one minute moment.
Here's a bit of good news. For all of you that take required minimum distributions and there is a huge penalty – 50% of whatever you were supposed to have as a distribution, the IRS has said if you haven't been able to file it on time and the turnaround is automatically going to waive the penalty if at the time you disclose this error on Form 2210. Now I will tell you we've been using this form for many years. IRS has always been really good about helping to waive that penalty because we went to them and disclose that not the other way around. Sometimes telling the IRS the truth may just keep a lot of money in your pockets.
Announcer 0:52
You can catch the Dr. Friday Call-In Show live every Saturday afternoon from 2 pm to 3 pm right here on 99.7 WTN.