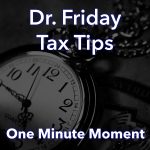 Dr. Friday 0:00
Good day. I'm Dr. Friday, president of Dr. Friday tax and financial firm. To get more info go to www. Dr. friday.com. This is a one minute moment.
Now's the time to sit down and start thinking about what do you need to have to prepare your taxes. Your Form W-2 will be in before the end of the month if you don't already have it now. But keep in mind that if you have an investment account with Ameritrade and all the other investments where 1099-bs, its interests, and dividends, they have theoretically until January 31st and in some cases until February 15th and then they say could take 21 days from that day to receive it via the mail. So don't rush to get your taxes done.
If you don't have all the right forms, making that mistake could cost you money. Call me 615-367-0819.
Announcer 0:52
You can catch the Dr. Friday Call-In Show live every Saturday afternoon from 2 pm to 3 pm right here on 99.7 WTN.