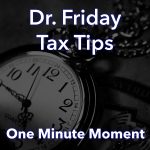 Dr. Friday 0:00
Good day. I'm Dr. Friday, president of Dr. Friday Tax and Financial Firm. To get more info go, to www.drfriday.com. This is a one minute moment.
Now is the time you might also want to be looking at the W-4 form. If you have been working for an employer maybe every year you just cannot seem to get a break-even. You always end up owing a little money. And sometimes at least in my experience, this is because of either being married with two jobs or somebody the single and they're working multiple jobs or combination there of the new w-4 is taking that into account. You need to check out this form it may help you get a better idea of what you're going to actually have to pay or have withheld on your paychecks.
If you need help with this go to irs.gov and click on W-2.
Announcer 0:49
You can catch the Dr. Friday Call-In Show live every Saturday afternoon from 2 pm to 3 pm right here on 99.7 WTN.