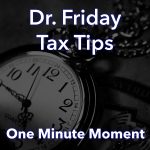 Dr. Friday 0:00
Good day. I'm Dr. Friday, president of Dr. Friday Tax and Financial Firm. To get more info go, to www.drfriday.com. This is a one minute moment.
Adoption credit. It is still out there, guys! And many of you are awesome and you go out and you do adopt children. Sometimes you get a little help from your employer, sometimes you don't. And there are certain credits you're going to get. You need to make sure when you're looking at all that that you're completing the form 8839. It is a very detailed form that will outline how much money you've put out, how much the original credit, the maximum credit, which is $13,810. But if you've gotten some credit from your employer, then you may actually have a little less coming as a credit back to you.
All you have to do is look at that form. It's going to give you some serious guidance or you can go to my website at drfriday.com book an appointment.
Announcer 0:52
You can catch the Dr. Friday Call-In Show live every Saturday afternoon from 2 pm to 3 pm right here on 99.7 WTN.