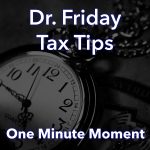 Dr. Friday 0:00
Good day. I'm Dr. Friday, president of Dr. Friday Tax and Financial Firm. To get more info go, to www.drfriday.com. This is a one minute moment.
My entrepreneurs, you know, it's this time of the year that many of you are procrastinating and a little bit trying to figure out what am I going to have to do. Keep in mind the IRS has a plan for you – A and B. You want to make sure that you're filing the right information. If you make a mistake, and it's a legitimate mistake, that's one thing but if you understand your income or overstate expenses, there are huge penalties. And as a preparer, you need to make sure that that information to the best of your ability is correct, because the IRS is coming after preparers as well as the taxpayer.
So if you have any questions, call me on 615-367-0819.
Announcer 0:52
You can catch the Dr. Friday Call-In Show live every Saturday afternoon from 2 pm to 3 pm right here on 99.7 WTN.