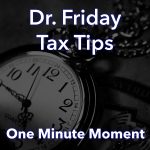 Dr. Friday 0:00
Good day. I'm Dr. Friday, president of Dr. Friday Tax and Financial Firm. To get more info go to www.drfriday.com. This is a one minute moment.
Dr. Friday 0:12
It has been a crazy year and we are going to find out there's a lot of changes that we're going to be looking at for our 2020 tax filing. Any individual that received PPP money, for example, that would-be employees, businesses self-employed any PPP money, they have changed. From up until now we have been saying we were going to be backing out the expense. Guess what, you can take the expense that you use the PPP money on your 2020 tax return for forgiven PPPs. If you have questions you need to go to my website drfriday.com and set up a tax appointment or call me at 615-367-0819.
Announcer 0:52
You can catch the Dr. Friday call-in show live every Saturday afternoon from 2 pm to 3 pm right here on 99.7 WTN.