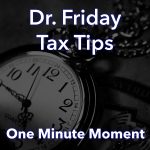 Dr. Friday 0:00
Good day. I'm Dr. Friday, president of Dr. Friday Tax and Financial Firm. To get more info go to www.drfriday.com. This is a one minute moment.
Dr. Friday 0:13
Okay, we all know that stimulus checks have already started to go out so individuals that make less than 75,000 should be seeing their $600. If you have it set up for electronic, you may have already received it. Or if you're married and make $150,000 or less, you will get $1,200 for children that are 16 or under you'll get another $600 per child. This is a great package. Make sure that you have, and if you haven't, you need to make sure you file your 2019 because that's what they're basing them on. If you need help give me a call at 615-367-0819.
Announcer 0:52
You can catch the Dr. Friday call-in show live every Saturday afternoon from 2 pm to 3 pm right here on 99.7 WTN.