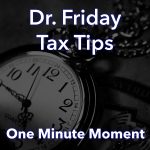 Dr. Friday 0:00
Good day. I'm Dr. Friday, president of Dr. Friday Tax and Financial Firm. To get more info go to www.drfriday.com. This is a one minute moment.
Dr. Friday 0:10
Let's talk about something that is due on February 1. But our 1099 and this year have we had a change. They have brought back the 1099 NEC. This was back in 1982 was when that form first came out. That's the last time I think we used it. This is going to be very important because, for individuals that may have been using 1099 miscellaneous, you need to look into this. They have changed where we're going to be reporting this information. If you need help with your 1099 or payroll or bookkeeping, call my office at 615-367-0819.
Announcer 0:52
You can catch the Dr. Friday call-in show live every Saturday afternoon from 2 pm to 3 pm right here on 99.7 WTN.