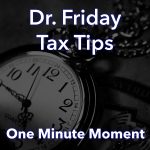 Dr. Friday 0:00
Good day. I'm Dr. Friday, president of abductive Friday tax and financial firm. To get more info go to www. Dr. friday.com. This is a one minute moment.
Dr. Friday 0:12
Back on December 21 when they pass the $9 billion bill, one of the things they have in there is the $25 billion in federal rent assistance. $800 million is set aside for Native American housing entities. The Federal eviction ban has been extended through the end of January. So if you are a landlord, and you have in people that have not been paying you to rent you do know, we're not able to evict them. So what we can do is try to apply for some of this funding if you need help with that. Or if you need help just filing your taxes you need to give us a call at 615-367-0819.
Announcer 0:52
You can catch the Dr. Friday call-in show live every Saturday afternoon from 2 pm to 3 pm right here on 99.7 WTN.