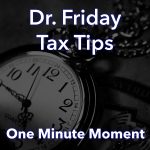 Dr. Friday 0:00
Good day. I'm Dr. Friday, president of abductive Friday tax and financial firm. To get more info go to www. Dr. friday.com. This is a one minute moment.
Dr. Friday 0:12
I am Dr. Friday an enrolled agent licensed by the Internal Revenue Service to do taxes and representation which basically means all I really know is taxes. How to deal with taxes and how to deal with the Internal Revenue Service to help you get back on track. If you haven't filed taxes for a number of years you may have missed out on two stimulus checks and or if you don't even know where to start, you don't know, or you're confused. You've been through a divorce you've had other issues I can help you the first thing you want to do is check me out on the web at drfriday.com. Then you want to pick up the phone and call me at 615-367-0819.
Announcer 0:52
You can catch the Dr. Friday call-in show live every Saturday afternoon from 2 pm to 3 pm right here on 99.7 WTN.