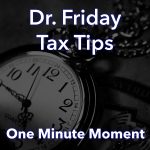 Dr. Friday 0:00
Good day. I'm Dr. Friday, president of abductive Friday tax and financial firm. To get more info go to www. Dr. friday.com. This is a one minute moment.
Dr. Friday 0:12
Any money you take out of a 529 plan or an educational savings account must be used for qualified educational expenses in order to be considered tax free. This makes sense of course. What happened in 2020? Schools closed, remote classes canceled and they may have refunded you a 529 plan. If that case happened, you only had 60 days to spend it on educational expenses. If that didn't happen, you might want to be adding this to your list of taxable income. If you have questions about this or what needs to be done to report it, give us a call at 615-367-0819.
Announcer 0:52
You can catch the Dr. Friday call-in show live every Saturday afternoon from 2 pm to 3 pm right here on 99.7 WTN.