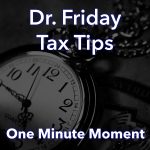 Dr. Friday 0:00
Good day. I'm Dr. Friday, president of abductive Friday tax and financial firm. To get more info go to www. Dr. friday.com. This is a one minute moment.
Dr. Friday 0:12
Under the new bill that passed on December 21. They had increased unemployment benefits. Also earlier in 2020, many people qualify for higher unemployment benefits. Remember those benefits are taxable. You need to determine at the time that you qualify for them. Are you having taxes come out, or have you set aside some of that money? I understand it's a tough time and you're barely surviving. But remember the last thing you want is a loan officer from the Internal Revenue Service is not the best way to handle your finances. I will tell you that if you need help call me at 615-367-0819.
Announcer 0:52
You can catch the Dr. Friday call-in show live every Saturday afternoon from 2 pm to 3 pm right here on 99.7 WTN.