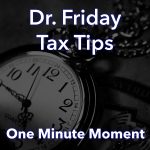 Dr. Friday 0:00
Good day. I'm Dr. Friday, president of abductive Friday tax and financial firm. To get more info go to www. Dr. friday.com. This is a one minute moment.
Dr. Friday 0:13
If you have relocated, if you have moved in with all the stimulus money that has come in 2020 and 2021, then you need to be filing an 8822 Change of Address. If you want to receive that money, you need to make sure the IRS has your proper information. And you need to mail that form to where you mailed your last tax return. So you need to make sure that you have updated your information with the Internal Revenue Service. Otherwise, you're not going to be mailing you a check that you might really want so if you need help with that, all you have to do is call me at 615-367-0819.
Announcer 0:52
You can catch the Dr. Friday call-in show live every Saturday afternoon from 2 pm to 3 pm right here on 99.7 WTN.