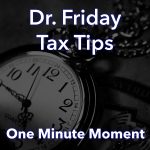 Dr. Friday 0:00
Good day. I'm Dr. Friday, president of abductive Friday tax and financial firm. To get more info go to www. Dr. friday.com. This is a one minute moment.
Dr. Friday 0:12
We have another decision to make for the 2020 tax filings. If you have a child that is 17 years or older, then you're not going to get a stimulus check for $600. Now you will get it if they are your dependent $500 as a dependent deduction, it's a little different than last year. But the fact is, is that child truly your dependent or not, and if they filed their own because last year, we had a lot of mess up, you need to make sure you're understanding who's claiming who and how it's being claimed. So that way you don't end up with a stimulus check and lose that person as a deduction. Do you need help? Check us out on the web at drfriday.com.
Announcer 0:52
You can catch the Dr. Friday call-in show live every Saturday afternoon from 2 pm to 3 pm right here on 99.7 WTN.