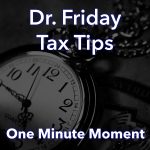 Dr. Friday 0:00
Good day. I'm Dr. Friday, president of abductive Friday tax and financial firm. To get more info go to www. Dr. friday.com. This is a one minute moment.
Dr. Friday 0:12
January 15, 2021, is a big day because it is the day you need to pay your final quarterly estimate. If you haven't made enough throughout the year, it's the day you want to maximize whatever you think you're going to owe. If you haven't made any estimates, today is the day you want to send in what you think you're going to owe or at least 100% of what you owe the year before, assuming your income hasn't changed. That way you don't get penalties guys, we hate penalties, and even though you might have a small one for not making in four equal payments, it's going to be a lot better than waiting until April 15. You need help check us out on the web at drfriday.com.
Announcer 0:52
You can catch the Dr. Friday call-in show live every Saturday afternoon from 2 pm to 3 pm right here on 99.7 WTN.