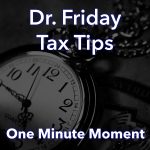 Dr. Friday 0:00
Good day. I'm Dr. Friday, President of Dr. Friday's Tax and Financial firm. To get more info go to www.drfriday.com. This is a one-minute moment.
Dr. Friday 0:12
I am Dr. Friday, an enrolled agent licensed with the Internal Revenue Service to do taxes and representation. I do not work for the IRS. I work for you. I'm more like a shield between you and the IRS. So if you're having IRS issues, you haven't filed back taxes, and you need some place to start, I am local, so therefore you have someone that actually talked with. Not like some of these big companies that basically you pick up the phone and, "Oh, start sending us money!" Maybe or maybe not. They'll help you will be able to find a resolution that will help you and also get the IRS off your back. Call me at 615-367-0819.
Announcer 0:51
You can catch the Dr. Friday call-in show live every Saturday afternoon from 2 pm to 3 pm on 99.7 WTN.