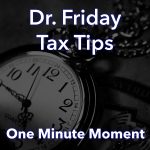 Dr. Friday 0:00
Good day. I'm Dr. Friday, President of Dr. Friday's Tax and Financial firm. To get more info go to www.drfriday.com. This is a one-minute moment.
Dr. Friday 0:12
And we still have a section 199 A deduction it came back in 2017 as part of the Tax Cuts and Jobs Act. But remember under the new section 199 A it enables the law to allow you if a non Corporation taxpayer can deduct QBI up until December 31 for 10 years. So December 31 of 2017 for 10 years, we're going to have QBI and you're going to be able to deduct it as a tax deduction. This is going to put money in your pocket but understand what QBI is you need to talk to your tax person if you don't have one, call me at 615-367-0819.
Announcer 0:51
You can catch the Dr. Friday call-in show live every Saturday afternoon from 2 pm to 3 pm on 99.7 WTN.