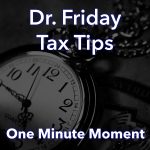 Dr. Friday 0:00
Good day. I'm Dr. Friday, president of Dr. Friday Tax and Financial Firm. To get more info go to www.drfriday.com. This is a one minute moment.
Dr. Friday 0:12
Small business owners. I love small business owners because entrepreneurs, I think are the heartbeat of this country because they often see things in a unique way. But sometimes they're a bit overwhelmed. Sometimes they just basically wing a lot of things. Maybe they let things slip. So if you're an entrepreneur and you're not really sure how to get back on track, maybe your accounting isn't in order. Maybe you haven't filed all your taxes in the right way. Maybe you're paying way too much and you're not paying quarterly. These are all things that I can help you get back on track with. It really isn't that hard. You can go to drfriday.com and set up an appointment today or call me at 615-367-0819.
Announcer 0:52
You can catch the Dr. Friday call-in show live every Saturday afternoon from 2 pm to 3 pm right here on 99.7 WTN.